Dozenten
Neben Christina Liakopoyloy leiten hin und wieder auch bekannte Tänzer und Choreographen aus Christinas internationalem Kollegenkreis Workshops und Extrakurse.
Zur Zeit mit laufenden Kursen unterrichten:
Paolo Amerio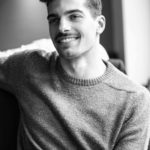 Paolo Amerio (Italy, 14.04.1988) is a freelance dance teacher and performer.
After graduating from the AHK-MTD (Amsterdam) he worked with choreographers as Nanine Linning (Nanine Linning Dance Company) and Felix Meyer-Christian (Costa Compagnie).
Paolo's research is mainly focussed on the infinite possibilities of the human body, on an honest, pure way of moving, where every single action is a result of a thought, or an emotion.
Jonas Frey
Jonas Frey (Tänzer und Choreograf) studierte Tanz und Tanzpädagogik an der ArtEZ School of Dance, Niederlande. Der gebürtige Heidelberger fand über den Breakdance seine Leidenschaft zum Tanz. Als Tänzer, Choreograf und Tanzpädagoge sucht er stets das Spannungsfeld zwischen urbanem und zeitgenössischem Tanz.
Jonas Frey arbeitet als freischaffender Tänzer auf nationaler und internationaler Ebene.
Seit 2015 ist er Mitglied des La_Trottier Dance Collective.
Am Schnawwl Junges NTM Mannheim gastiert er in den Produktionen "Mannheimification" und "Nothing Twice".
Im Rahmen von "Freiraum" war er Residenzkünstler am Nationaltheater Mannheim, wo er die Choreografie "Bridging Gaps" präsentierte.
Neben seiner Tätigkeit als Tänzer und Choreograf engagiert er sich in sozialen Projekten, in denen er mit Geflüchteten und Jugendlichen arbeitet.
Jonas Frey unterrichtet HipHop & Breakdance.
Joanna Piłatowicz
Joanna Piłatowicz graduated with a degree in pedagogy from the Warsaw University. Aside from her university program she has been studied modern, jazz, ballet and afro dances offered by different dance schools in Poland, Germany and The Netherlands. As a post diploma studies she has accomplished psychotherapy connected with movement at Academy of Physical Education in Warsaw.
Since 1999 she has worked with adults and children as a teacher, performer and choreographer in Poland. (Dancing- Acting Studio in Warsaw, Lodz School Film, Fitness clubs) and from 2006 in the Netherlands (Exnunc, K'dans, International Schools and Latino dance schools).
Currently she teaches in Nostos Tanz Theater in Heidelberg, Movement Ballet School and Belladrom fitness club in Mannheim and Penguin dance school for professional young tap dancers in Hemsbach.
In her work she uses elements of various techniques (Alexander technique, yoga, tai-chi, dance therapy), that can better assist not only in body development, but also influence mind and emotions (strengthening focus, balancing on a physical, mental and emotional level).
She is also a freelance personal coach and educates people on how to supporting in artistic way, self-discovering, prepare them to perform and help them with personal growth, self-image by working with the way of individual movement.